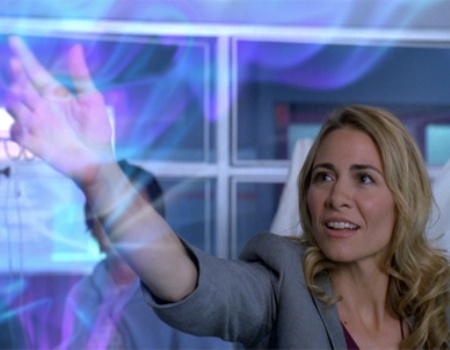 On the popular TV show "Heroes," the character called Emma Coolidge is portrayed as being able to "see sound" as her "superpower."
The theory has ties to cymatics in that sound is represented as sound waves being viewed as visual patterns – but how much the authors of the show understand about cymatics is unclear. Take a look at the photos of Emma from Heroes "seeing sound," then take a look at the picture of the cymatics sound bubble around a woman playing a violin here. Did they get it right? Leave a comment and let me know what you think.
See more photos of how Emma Coolidge "sees sound" on Heroes, on the Heroes Wiki page…and, if you want, you can even add a "theory" about Emma and cymatics to the "Theories" part of the Heros Wiki. Be sure to leave a link to http://www.cymatica.com when you do (so they can see what you are talking about).