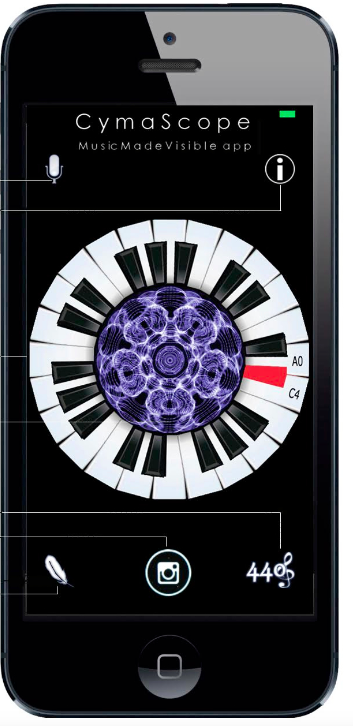 John Stuart Reid announces a new release: The CymaScope app, a cymatics app that lets you see and experiment with cymatics on your iphone or ipad.
The CymaScope app is the world's first app to make the geometry of piano sounds and music visible. The imagery you will see is not a computer simulation; all the beautiful imagery in the app was created on a physical CymaScope then stored in digital memory.
The new cymatics app allows you to:
• Play the visible piano notes by the touch-sensitive circular keyboard.
• Use your voice to trigger the visible piano notes.
• Play a live musical instrument or any recorded music to the app and watch the CymaScope imagery unfold in real time.
• Select your favorite concert pitch: 432 Hertz, 440 Hertz or 444 Hertz, and see unique, dynamic imagery from each.
• Experiment with visual projection of the piano notes by connecting a video projector to the iPhone or iPad.
• Choose the 440 Hertz visible piano notes for colorized performance, or the 432 Hertz and 444 Hertz visible piano notes for monochrome study.
• Capture moments of the imagery and share on Facebook or by email.
• Save any moment of the imagery to the iPad's Photo Library—then print a hard copy out to put on your wall or share with children.
You can learn more about the new cymatics app here and you will also find a button to download it from the app store here.