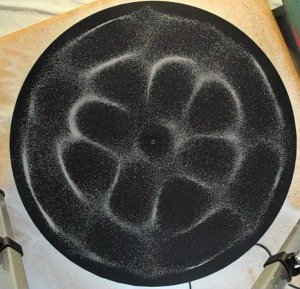 Recently a reader wrote in to ask what the difference is between a cymatics device that uses a membrane and a cymatics device that uses metal. There is also sometimes confusion about whether to use a speaker or another type of sound source with metal, etc. Here is a definitive answer.
Below are photos of 4 different DIY cymatics devices that you can build at home, and a description of how they work, including 2 acoustic and 2 electronic models.
Keep in mind that all of these models use sand or salt (powders) to create the cymatics images; there are other cymatics devices that are used to make cymatics images in water.
The first type of DIY cymatics device pictured here is what I call a "Cymatic Sounder," otherwise known as a tonascope. It is built using pvc, a balloon or other latex material, and uses the voice for making cymatics images. You can find plans to make this device here.
The second type of cymatics device you can see here is a cymatics plate on a stand. It uses a violin bow to create the sound, and the cymatics images are created when the plate vibrates to the stroking of the bow. You can find video plans to make this type of cymatics plate here.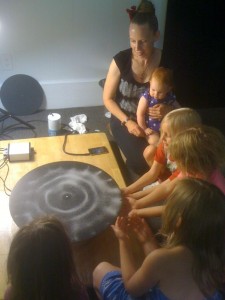 The third type of DIY cymatics device you can make is an electronic device that uses what is called a "wave driver." This is a more complicated cymatics device and the most expensive of the three; you must get a wave driver and amp from a scientific outlet, alter the plates, and hook the wires up yourself. The advantage is you can play your voice, music, or frequencies through the plate to get images. I did not design this setup but I have recreated it in my studio as you can see in this photo of a demonstration held this summer. There are no current plans for this device but you can see the wave driver and how to get one here.
The fourth type of cymatics device shown here is the most recent of my designs. The advantage to this device is that it is electronic and allows you to play your voice, music or frequencies through it using a mic or computer, yet it is not as complicated to build (and is inexpensive). I have just completed full video instructions for this cymatic voicebox including step-by-step printable plans. This is probably the best device to start with if you are a musician or would like to see your voice in complex patterns. It would also work as a kid's project (with adult help). Click here to see a video of the voicebox being played.
Let me know in the comments below which device you are most excited about trying out for yourself.
Share this article with your friends by clicking the "Like" and google+ buttons below!